General Site Access. This is the access you receive when you register on the site. This allows you to freely move about all areas of the site, download items from the "boneyard", and includes access to view all articles and messages on the forum. NOTE: YOU STILL CANNOT "POST" MESSAGES IN THE FORUM. With this access you can "read" the messages on the forum, but you do not have the privilege of posting on the forum, nor do you have access to the more advanced features of the forum.
General site access login looks like this: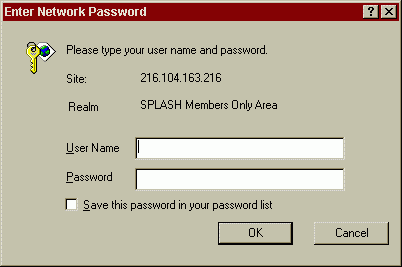 If you have lost your General Site Access user name and password please go here to retrieve them. Site Password
Message Board Login. THIS REGISTRATION ALLOWS YOU TO POST ON THE FORUM. The forum registration allows you to post messages on the forum as well as use the advanced features of the message board. The forum is a separate software program and therefore requires a separate username and password. At the top of the message board is a link shown as "first time visitor, please register". After clicking just fill out the form and submit it. You may use the same username, if available. After that simply log onto the message board and you will be able to post messages. **Remember, the user name you select when you register will be the name that appears on your posts.
Message Board Login looks like this and is accessible from the message board.

If you have previously registered on the message board but have lost your login password follow this link to generate a new password. New Message Board Password SPLASH does not have access to this password.
**Note: you must already be logged into the site, or provide your "site access" username and password, in order to use the above link.